Gravlax is so succulent and wonderful that even squeamish folks who wouldn't eat sashimi love it. I personally enjoy the fatty fish from Norwegian farms. It melts in your mouth.
A Norwegian native friend, Anne, showed me how to prepare it as it's done at home. Of course there was no recipe ( written that is ).  Homemade is usually a little more rustic than restaurant prepared so experiment all you like with different flavors. I've even added a drop of fresh lime. Be bold but don't drown the fish !!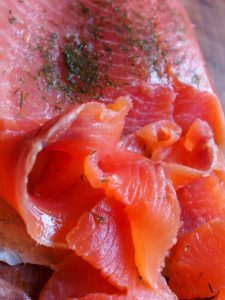 Start with two filettes of the freshest salmon you can, sashimi grade if  available. This is of course the key ! You will also need salt, sugar, and a few stalks fresh dill. ( dried will be *ok* but fresh dill is the best )
Take equal amounts of salt and sugar, rub in a thin layer on each cut side of the fish, next, layer as much chopped dill as you can get on top of one piece.
Place the fillettes, rubbed sides together, wrap tightly with plastic wrap and place in a container with raised sides, it should be flat also. Refrigerate for at least one day. Pour off the liquid if you like.
Slice thinly, serve on thin rye bread with honey mustard. If there is any left, refrigerate. Will keep for a few days at least.
Aquavit is a fine accompaniment !