Been a fairly good year in the gardens. I tried a lot of new varieties this year and was amazed with their success, in spite of the sporadic drought and deluge. I want to talk about some plants that I've already eaten.
Garlic A perennial favorite. This year marked the 15th year I've been cultivating my bulbs by natural selection. I've been reserving the largest cloved bulbs for planting each year and have developed a crop is red striped and  each has 4-6 large cloves. So beautiful to admire, so few to peel, so delicious to eat…..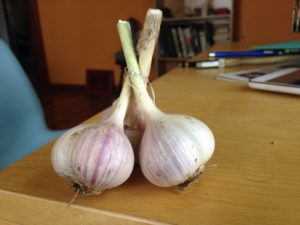 Padrón peppers  – These small peppers from Galicia, Spain are like cracker jacks. 10 to 25% of them are hot, so you don't know what the prize will be. Sweet and tasty or hot and sizzle. I've never had one I couldn't handle but for some it might be too much. Just keep a baguette nearby.
Simply fry them in hot olive oil until they  turn dark. Thinned skin they are, so you can just grab them by the tail and eat. My Galician friends went wild over them.
Mizuna (ミズナ(水菜) – Fun to read about,  beautiful to look at and delicious to eat.  Also called Japanese mustard green but the name doesn't describe the taste. The characters are more so. Very easy to cultivate, grows fast and furious so you can start dining immediately. One plant would have been more than enough. Add it to salads or a salad on it's own with simple dressing of rice vinegar, a tad of sweetener of choice ( Mirin is best ), roasted sesame oil and soy sauce.  I'm going to have some now.
Beets Tried a few new varieties and was very pleased. I really can't grow enough to keep my son and I in beets; fortunately there is an abundance at the St. Paul Farmer's Market.  Boiling or steaming seems too brutish so I rub them down with olive oil and roast at 375 till al dente.
Slice and serve with goat cheese and a honey dijon dressing on a bed of Mizuna.
Yellow San Marzanos – Didn't yield as expected but very colorful and tasty. They don't resemble San Marzanos so don't expect a large, dense fruit.  Perhaps they didn't get along with other family members planted close by.
Yukon Gold Potatoes  The sandy soil at the Rice Street Community Gardens is perfect for spuds. Very easy to grow. I grab a bag of organic from the coop making sure there is lots of 'eyes'.  Let them get a start in the bright light, then cut, separating the eyes. Plant to depth of 4-6 inches. So fun to dig up and be surprised what happens in the darkness. A freshly dug potato is a wonder !
Soon I'll have more as the winter squash start to roll in. Also I will be talking about pollinators and the role they play. Hope you enjoyed this bit of garden adventure in the Urban Landscape.
Anything we can grow organically, keeps us off the pesticide/herbicide/chemical fertilizer grid.